Seth Diamond here, the host and producer of Food Biker. Here's the back story:
Time for a Change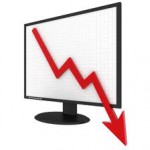 In 2008, the economy tanked.  Like so many Americans, especially those approaching the age of forty, I faced some difficult career decisions.
Business for my Mac computer consulting business of nearly 15 years nearly dried up, and both retail and web sales for my small apparel and gift company plummeted.  For me, 2008 was a double-whammy.
However, this economic downturn wasn't the end of the road.  Instead, this challenge was what kick-started my new career.
Meanwhile, the siren song of the open road was calling.
The First Trip (2008)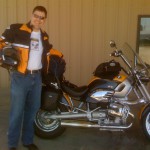 In early 2008, I had bought a one-way ticket down to Pensacola, FL, to purchase a used 2002 BMW R1200C Phoenix motorcycle.
Carrying an old helmet, a backpack, old leather motorcycling boots, and some second-hand textile gear… I rode a 1700 mile solo journey back home to Boston… eating incredible road food and exploring the back roads of the South- and Northeast.
It was during this journey, that I soon realized that trip was one of my most life-defining events.
Although insanely passionate about cooking, beverages, and food adventures since childhood, never before had I allowed myself to seriously consider a career in the culinary world. 
Inspiration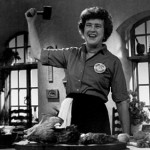 Later in 2008…Inspired by Julia Child, Alton Brown, and Michael Ruhlman… all of whom attended culinary school in their thirties and successfully moved into culinary media, I figured that all three of them must have done something right.
So, off I went to school at Le Cordon Bleu Boston to become a culinary professional.
Upon meeting Anthony Bourdain and briefly discussing my career change in early 2010, Bourdain playfully gave me a hard time…calling me "Methuselah… Grandpa…" for having jumped into culinary so late in my life.
However, Bourdain explained to me that he did see places for me in culinary media, where I might find my own "mad butcher" like Bill Buford had in his book Heat. Little did Bourdain know that I was quietly working on Food Biker in the background, where I was planning to find and learn from "mad butchers" all across America.
The Second Trip (2009)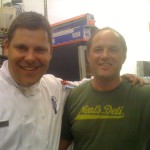 In the spring of 2009 and during my education at Le Cordon Bleu, I undertook my second solo motorcycle journey, riding down to Skyline Drive and the Blue Ridge Parkway…down to Beaufort, SC…up the Outer Banks…and looping back home. This time, I packed my clogs, chef whites, checks, and knife roll…and enjoyed day stages with various incredible chefs while covering 2,500 miles on Ellabelle.
This was it!  Learning the secrets from chefs while enjoying the motorcycle adventure became the mission itself.  Thus, Food Biker was born.
(This is a shot of myself and James Beard award winning chef Robert Stehling at his mindblowing restaurant Hominy Grill, not too long after he had won this prestigious award for the Southeast.  If it wasn't for Stehling, who knows where my culinary direction would be today.)