Okay, Food Biker fans.
Thanks for being wicked patient. After all sorts of delays, we're hard at work at editing and producing more Food Biker episodes, the next batch of which will be coming your way on Thursday mornings at 10:00am (EST) right here on the Food Biker website.
For your additional viewing convenience, episodes are available on both our foodbiker YouTube and Vimeo channels.
Before anything else, we need to finally wrap up our set of short episodes about our visit to the Sharon Springs Garden Party. It seems rather fitting that tomorrow is Pi Day (3.14), as in: 3.14159265…
Frankly, I can't think of a better way to celebrate it by eating pie other than maybe watching our Team Pie episode.
You say you've already watched it?
You say you're Team Cake?
Fine.
Espeically for all of you who may be hating on pie tomorrow, we're going to offer you a very special Team Cake episode. Just don't accuse us of never offering you fair and balanced television, particularly on this special Team Pi(e) holiday.
Regardless of whether you're Team Cake or Team Pie, be sure to tune in on Friday, 3.14, airing live at 3.14pm (EST).
Meanwhile, here's a tasty Spring Preview of what we're busy cooking up for you:
---
1) Food Biker: Beekman Bound
Beekman Boys Brent Ridge and Josh Kilmer-Purcell.
Farmer John and a whole lotta' goats.
The Beekman 1802 team.
Beautiful backroads and tasty treats.
Although we've focused quite a few short episodes about the Sharon Springs Garden Party, many of you self-proclaimed "Beek Geeks" have been patiently waiting for the main event.

We've decided that Beekman Boys Brent Ridge and Josh Kilmer Purcell deserve some special attention, which will focus on our visit to these two fine gents and the Beekman team up in Sharon Springs.
Hopefully, your patience will soon be rewarded, Beekman 1802 fans!
---
2) Food Biker Rally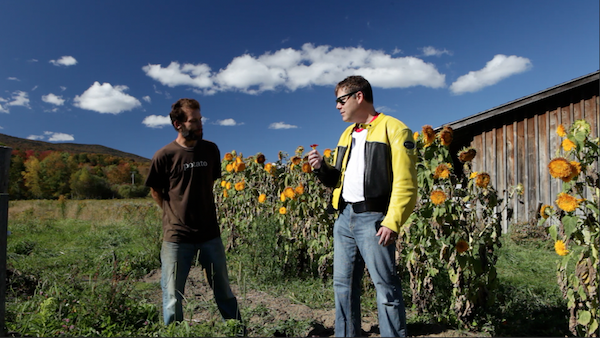 Eating flowers in Vermont.
Bourbon.
Bikes.
BBQ.
A dog that rides a motorcycle.
Yeah, we've got all that.
The hot weather of our Beekman filming moves into the deliciously cooler days of early autumn, in a series of short episodes that chronicles our visit to the Gray Ghost Inn, at the Food Biker Rally in southern Vermont.
After all, you'll see that there's a lot more going on in the Mount Snow region long after all the skiers and snowboarders have gone home. Motorcyclists and BBQ lovers rejoice!
---
3) Old School New Cool
James Beard award winner Michael Ruhlman.
James Beard award winner Tony Maws.
Boston Globe advice columnist Meredith Goldstein.
A whole bunch of ridiculously talented Boston-based chefs.
Again, we've got all that.
In our first of our Restaurant Racer™ branded Food Biker short episodes, stay tuned for some amazing footage with James Beard award winners Michael Ruhlman and Tony Maws, and a whole bunch of incredibly talented Boston-based chefs, who are reinventing the Jewish-American cuisine of their grandparents at the New Center NOW's "Beyond Bubbie's Kitchen" event. After all, what's old is new again.
---
So yes, we've got a lot in store for you this spring, not to mention top-secret plans of upcoming filming, contests, and other cool stuff. So please spread the word, enjoy the episodes, and just remember: 
Take the fork in the road.™